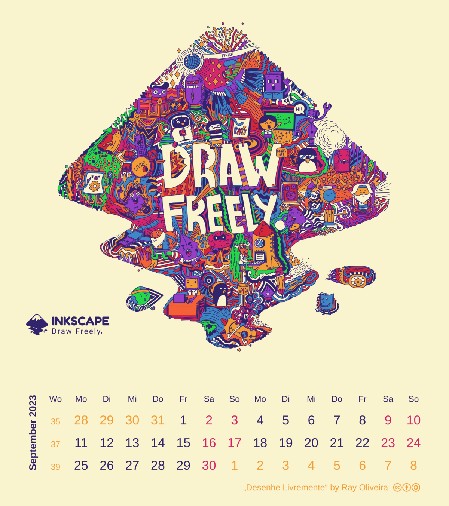 Am Ende jedes Monats veröffentliche ich unter vektorrascheln.de ein Kalenderblatt für den Folgemonat mit einem von Mitgliedern der Inkscape-Community für den Wettbewerb für das 'Über Inkscape'-Bild gestalteten Kunstwerk.
Weitere Informationen zur Reihe findet Ihr im ersten Artikel "Inkscape-Kalender zum Selbst-Ausdrucken 12/2022".
Alle bisher erschienenen Kalenderblätter findet Ihr unter dem Schlagwort 'calendar'.
Mit dem Bild "Desenhe Livremente" von Ray Oliveira (Lizenz: CC-By-SA 4.0) habe ich für den September ein Bild ausgewählt, das meine September-typische Arbeitslast widerspiegelt - bunt, laut, vollgestopft bis obenhin. Das Logo im Doodle-Stil hat Ray für den Wettbewerb für Inkscape 1.1 eingereicht.
Während ich mich nun wieder dran mache, alles für die diesjährigen Kieler Open Source und Linux Tage weiter vorzubereiten, könnt Ihr schon mal das aktuelle September-Kalenderblatt herunterladen:
Kalenderblatt September 2023 A3 (7016x7912px, PNG) herunterladen
Ich wünsche Euch allen einen schönen Spätsommer!
This work is licensed under the Creative Commons Attribution-ShareAlike 4.0 License. You may share and adapt the contents, as long as you publish the result under the same license and give appropriate credit.

If you like to use Inkscape and want to support program development, consider to become an active member of the Inkscape community or to make a donation. Your effort will help make Inkscape even more awesome!
---